Battle Drones [Powerful Top-Down Air Units]
A downloadable Battle Drones
Get this Battle Drones and 66 more for $12.50 USD
View bundle
Hey Everyone!

Here comes my brand new stuff:
Battle Drones!

Some messages to my:
Dear Followers!
A thousand thanks for your patience. I have to work a lot nowadays.
So thank you for waiting! :)

Dear Supporters!
A thousand thanks for your support. We reached the goal of this bundle.
Thanks a lot to everyone! People are simply awesome! =)
In this package:
Top-Down Battle Drone Units. Completely 20 quality PNG Images (both blue and red ones) + PNG files with parts and accessories. Check the content, it's free as you know!
Images are centered & separated. There are 2 folders: 1 for PNG & 1 for PSD files.
These images are bigger than the usual. Average size is around 400 x 800 pxs.

You can size them as you want. And you can build your own versions from the contained parts.
I really hope you like this package!
Have a nice day!

Ps.: and yeah... PSI Blades and Photon Cannons everywhere ... :P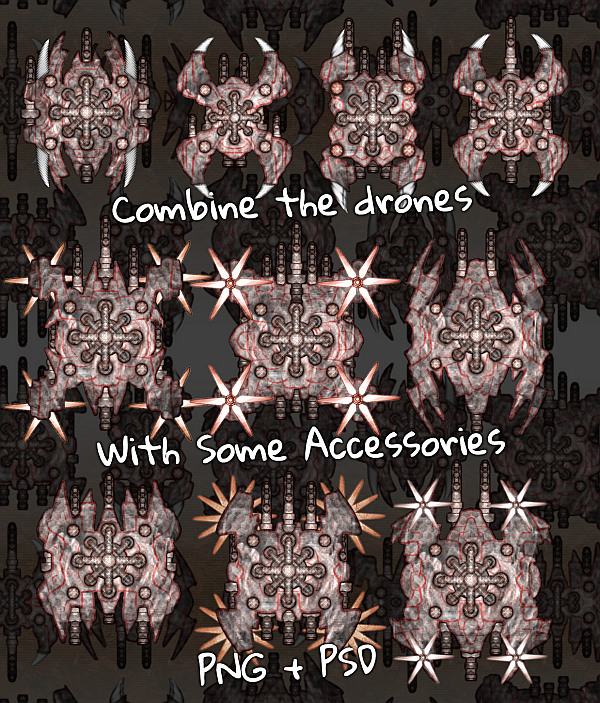 Download
Get this Battle Drones and 66 more for $12.50 USD
View bundle
Click download now to get access to the following files:
Some missing Transparent PNGs
1 MB